The Sudbury-based company was honoured at the 24th annual Bell Business Excellence Awards gala celebration on September 16th at the Caruso Club in Sudbury. Hosted by the Greater Sudbury Chamber of Commerce, the annual awards ceremony pays tribute to entrepreneurs and businesses that demonstrate excellence in their field.
Cofounders, David Ballantyne, COO and Michael Gribbons, CEO accepted the Company of the Year Award after having just showcased their disruptive technologies at the MINExpo 2021 convention in Las Vegas, USA.
The Company of the Year Award is presented to a company that has demonstrated significant business achievement, sustainable financial performance, outstanding growth and success, and has had a significant impact on the community's economy.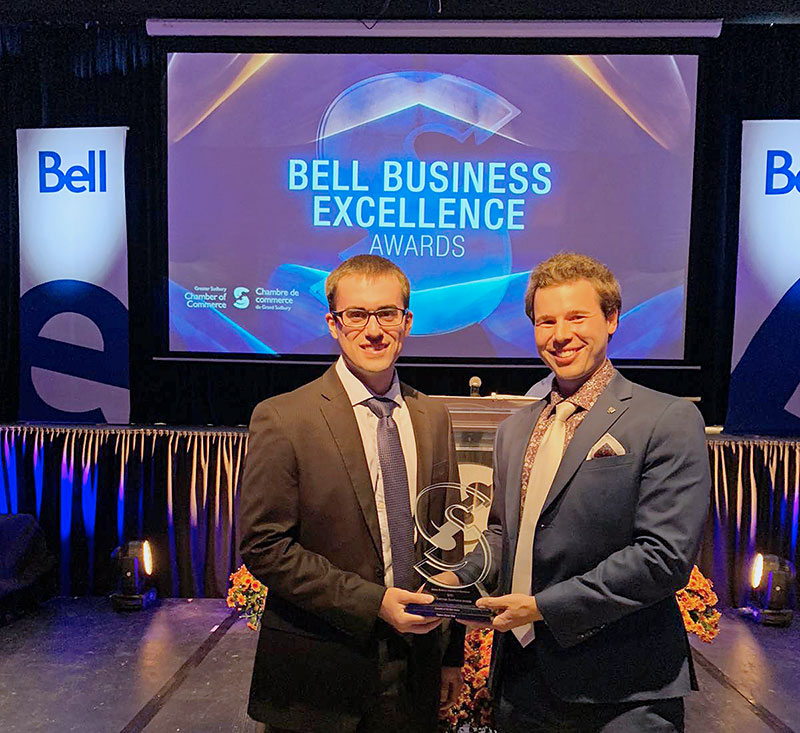 Maestro's brand promise, "We leave no one stranded" is the foundation that drives exemplary customer service 24-7. One of Maestro's core values "Listen, Learn and Act" facilitates upfront collaboration with multiple end users and cooperation up and down the supply chain that is vital to achieving the development of relevant and commercially viable solutions for the mining sector.
Maestro, immersed in a diverse mining innovation hub, is a proud ambassador for Canadian METS sector and continues to support the community and mining organizations such as MMTS, CIM, Science North and Dynamic Earth, NORCAT, MIRARCO, CEMI, LU – Goodman School of Mines, Cambrian College, MineConnect, MSTA, and providing dynamic and technically challenging careers for the modern world.
Their cleantech products and solutions deliver worker safety and productivity improvements while reducing energy and greenhouse gas footprint, aiding in corporate decarbonization efforts, and supporting global warming initiatives.
Maestro's solutions are now recognized in over 36 countries and deployed globally in 150+ mines including Vale, Glencore, BHP, Rio Tinto, Newmont, Barrick Gold and Nutrien.